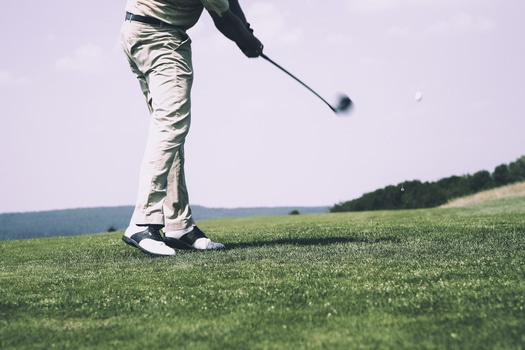 It's a fact, in order to increase distance you have to increase your golf swing speed.  Adding 1 mile per hour is equal to an increase of 3 yards, so to gain 10 yards should be easy, right? Wrong! Should you swing harder, faster, spin your body quicker?  Which is the best way to accomplish your swing speed/increased distance goal? By trying to do one of the things above you could hurt yourself. The arms, shoulder, back, or neck – the potential injury list goes on!
Increase your golf swing speed – safely!
The key to increasing your golf swing speed is to to start with a good grip and proper stance. Let's look at a simple analogy – when you snap a towel, like you would crack a whip, the hands remain soft while the back motion is slow and the front motion is slow, and the resulting speed comes from the motion stopping and the the towel or whip comes forward and snaps.
Now you try it. Take a towel and snap it. As you are doing it, slow it down and watch the motion of the hand.  The hand comes forward stops and reverses. The quicker the stop and reversal the louder the snap, so the premise is the same.
So let's look at your golf swing and try to apply the towel snapping concepts. The back swing should be slow with a count of three and the down swing should have a count of one. Shoulders do not move and remain parallel to the target. At impact, the hips should have rotated open only 25% by the planting of the right foot pressure to the heel.  The hips should rotate away from the target.
Hit through the ball, a lot of people try to hit the ball but that's trying to control the club which slows it down.  Think of a practice swing, which carries no expectations, the swing is relaxed and free. Now imagine a ball appearing – it would just get in the way!
In conclusion, there is still more to increasing your golf swing speed but these are the basics.  Increasing your swing speed takes time, and it's not easy. I think one of the hardest things is to relax and let the club do what it's designed to do.  Practice, remain patient and in a month, than three, than six,  it will get better. Let the speed be with you!